The Hidden Code – Part 3
Not only is the Manitoba Legislature satanic, it is also blasphemous. Remember that occultists do now want the power of Christ to be manifest in them through realizing that Christ died for them. Instead, occultists want the power of Christ without allegiance to Christ. This is symbolically encoded through the lamp stands that surround the rotunda of the Manitoba Legislature. Twelve small lamps surround the sun (Son) of the larger lamp - just like the twelve disciples and Christ.
Still not convinced? The mural that hangs over the entrance to the Manitoba Legislative chamber, painted by Frank Brangwyn, is not just a scene of a soldier being rescued during World War 1. It is a depiction of the death of Christ. You can just make out the image of the Madonna and Child at the top of the painting.
There is one room in the Manitoba Legislature without a name or a number. The public explanation for this room is that it is the lieutenant-governor's reception room. The private function for this room is that it is the Holy of Holies. This room has the same dimensions, in cubit measurement, that the Holy of Holies in King Solomon's temple had. The twin pillars of Jachin and Boaz, mentioned in 1 Kings 7, guard the entrance to this special room.
The temple would not be complete without the Ark of the Covenant, flanked by two angels. The Ark sits high on top of the temple, inaccessible to all except monarchy and the elite, as depicted here.
Conclusion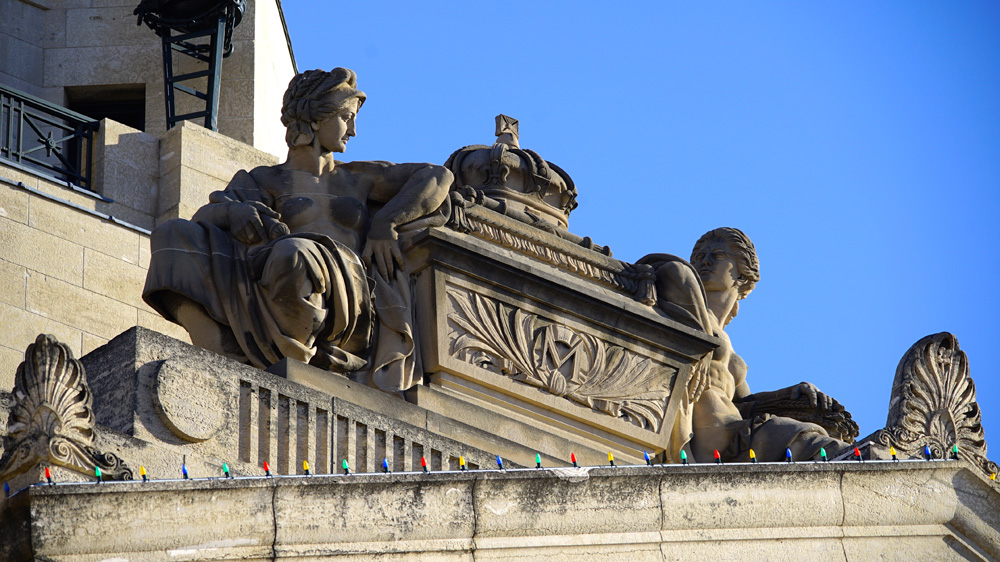 The elite of the world have always gotten involved in the occult. There is no greater example of this than King Solomon. The elite of the world have also always considered themselves as "gods" over the masses. The key to holding on to the reigns of power is to make the masses think that they are free, or dependent on the elite.
We conclude where we have started. The Manitoba Legislative Building is nothing less than an occult temple, designed to increase the spiritual influence of insiders in positions of power over the masses. I hope that my fellow brothers and sisters in
Christ can accept this, instead of calling it a "conspiracy theory".